When:
March 3, 2023 @ 6:00 PM – March 5, 2023 @ 8:00 PM
2023-03-03T18:00:00-06:00
2023-03-05T20:00:00-06:00
Where:
Bob Bolen Public Safety Complex
511 W. Felix St. Fort Worth
TX 76115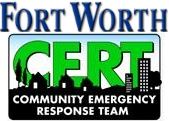 Fort Worth Community Emergency Response Team (CERT) will be putting on a Basic CERT Course which will be held over one weekend instead of the usual 3 consecutive Saturdays.  The Basic CERT Course teaches you how to care for yourself and your family if a disaster strikes.  Often during any disaster, emergency services are overwhelmed leading to an extended period of time until help arrives.  The Basic CERT Courses teaches such topics as fire safety, disaster medical, and light search and rescue to name a few.
This training is free of charge and open to anyone 18+ years old.  **Attendance is required each day to receive certification.**  To sign up, please visit https://www.preparingtexas.org/DeliveryDetails.aspx?classid=4b46af27-103a-4372-923a-18308cbdadfc
You will need to create an account before you are able to sign up for the course.  If you need assistance creating an account, visit our training tab where you will find "Creating a Preparing Texas Account."  That will take you to a page with step by step instructions.
Lunch will be provided on Saturday and Sunday.